Motor-CAD internal Scripting tab#
The Scripting tab in Motor-CAD facilitates creating, editing, loading, and saving internal Python scripts within Motor-CAD.

From the Scripting tab in Motor-CAD, you can connect from an internal script by accessing the MotorCAD() object with this code:
import

 

ansys.motorcad.core

 

as

 

pymotorcad





mcApp

 

=

 

pymotorcad

.

MotorCAD

()



With the MotorCAD API, you can use PyMotorCAD methods to send commands to the current Motor-CAD instance. For example, you can set and get values before, during, and after calculations. You can also create a script for Motor-CAD automation.
In the following image, the Scripting tab shows the demo script. You can use this default script as a starting point for scripting internally in Motor-CAD. However, you can also add and run any Python script from this tab.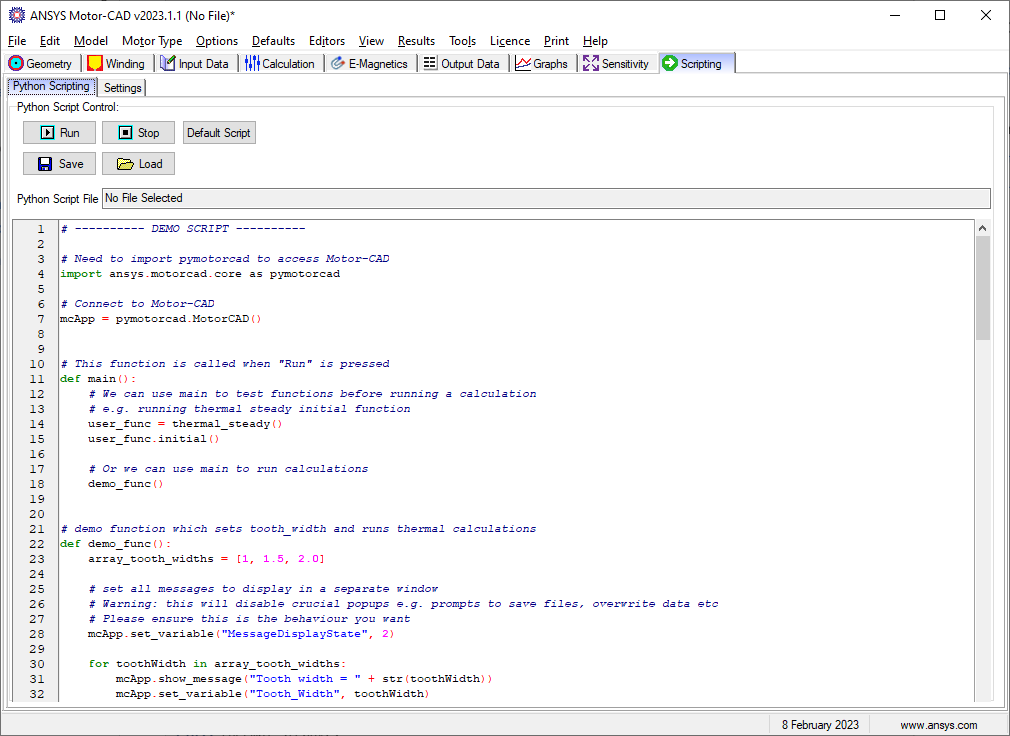 Demo script example#
The demo script is shown by default on the Scripting tab in Moto-CAD to providing examples of how you use PyMotorCAD methods and Motor-CAD automation parameters.
For more information, see the Motor-CAD Automation tutorial (section 2.iii), provided with the Motor-CAD installation.